The following article was recently featured in the Irish Independent. The article was written by Journalist and Writer Joanna Kiernan and photos are by Photographer Marc O'Sullivan . To view the original article click here.
'We need to learn how to use our bodies properly'
We meet Chris Feld, a personal trainer who believes there isn't one diet and exercise method that fits all, and has put all her energy into individual functional training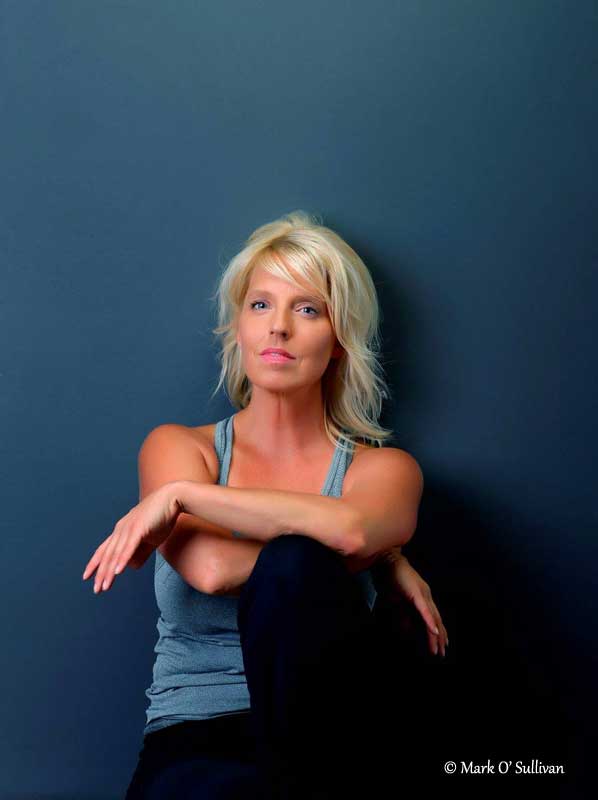 Chris Feld, a Dublin-based personal trainer, neuromuscular therapist and yoga and pilates teacher, is also a former athlete and dancer – and a vegan. From bodybuilding to sports aerobics, Chris (45) has had a colourful and interesting fitness past, the best elements of which she now incorporates into her methods, with functional training and advanced flexibility techniques her top priorities.
"I don't believe in the one-size-fits-all methodology for anything in life, and especially for training. We have much more control over our physique and body type than is accredited to us. Are you just lifting weights, or are you aiming to achieve a specific physique?" Chris asks.
"If you want to look like a runner, you have to train like a runner. If your aspirations are long lean muscles of a dancer, then you need to simulate the movement patterns of a dancer. If you want to get big, train, eat and live like a bodybuilder, then body engineering is the key."
Whatever your fitness goal, Chris believes that with a little clever planning and commitment, anyone can achieve dramatic results, while improving the way we move and use our bodies for long-lasting mobility and flexibility.
"My passion is to help people achieve a better quality of life. To be able to walk, twist, turn and lift in everyday life situations, pain free and as effortlessly as possible," Chris adds. "We are given only one body, but modern living has made us stray away from its proper usage. We don't need to learn, we simply need to unlearn."
Contrary to popular belief, being vegan is not an obstacle to achieving strong lean muscles says Chris.
"I will assist people in whatever diet they prefer, but I do like to make people aware that I am a vegan and I am fit and strong, because there are misconceptions," she tells me.
"We are never going to find a diet that is perfect for everyone, one person might thrive on it [veganism] and another won't, so it's important to find what is right for you. For me veganism happens to be the right thing and I am doing very well on it. When it comes to protein it definitely requires a little bit more education around diet."
Chris, who was born in Munich to an Austrian father and Finnish mother, grew up frequently moving throughout Europe. Chris credits this experience with her multidisciplinary approach to fitness.[mks_boxquote align="right" width="450″ arrow="right"]"My passion is to help people achieve a better quality of life. To be able to walk, twist, turn and lift in everyday life situations, pain free and as effortlessly as possible,"[/mks_boxquote]
"I have worked for a long time in the fitness industry and I have done the whole route, but my specialty area has been functional training and it was an interesting experience because that was at a time when functional training wasn't as mainstream as it is now," Chris explains.
"Now kettle bells are hip again and people actually are familiar with the word, but my fitness background goes all the way back to the 80s, we are talking about Jane Fonda, so I have seen that evolution.
"Functional training also fitted in well with my other hobbies; I am a rock climber, I like challenging mobility and flexibility and putting all of this together.
"I used to compete in sports aerobics, which has nothing really to do with aerobics, you have a two-minute performance on stage; it's pretty much gymnastics on speed except there are certain rules to it and a whole range of movements you are not allowed to do," Chris says.
"But it is extremely physical and the women do the same moves as the men. So I came from that and from a dancing background."
In fact, Irish dancing is what brought Chris to Ireland in 1999.
"I fell in love with Irish dancing, so I came here to learn," Chris smiles. "I was in a dance company at the time in Finland and one of the Riverdance dancers came and did a short workshop; it got me so excited about it that three months later I was living here."
Chris has alwaysenjoyed a good level of natural strength.
"Since I was a child my superpower has been strength," she tells me. "I was tiny, I was premature, so I was like a hobbit for ages, but I was so strong; I used to beat the boys in arm wrestling.
"It was just there. At a very young age I started to do paper rounds and this was very physical so I think that's where I got my fitness from; I had a distribution area of like 3,000 papers, twice a week and they were old buildings, there wasn't a single elevator so I would just run up stairs."
Weight training soon followed.
"I was 19 when I got into weight training, a friend of mine was actually trying to get his girlfriend fit," Chris laughs. "So I tagged along. It was a real pumping iron, Arnold Schwarzenegger-style place with all of these big professional power lifters, and I was hooked. My friend never came back, but I loved it. I was the only girl and it was great."
However, Chris later became unimpressed by the pageant-style Ms Fitness competitions for women involved in the sport, and moved into sports aerobics.
"I have done so many different types of training and gone through all of the stages, so I feel now that I am more sensible and alert about the very important differentiation that exists between fitness and health, because they are two completely different things," Chris explains.
"I think when you are younger it is easier to ignore that and concentrate just on the fitness aspect, but you have to look at all of the elements. We need to recognise the importance of incorporating three dimensional movements into our daily routine rather than old-fashioned two dimensional workouts.
"A lot of what I do now with clients is correctional movements, getting the body into a state where it can perform physical movements naturally without jamming up all of the time or getting injured," Chris adds.
"Without always going back to where you injure yourself and then you cannot do anything because you are right back to the start line again. So many people are caught going back and forth in this cycle."
Chris is passionate about yoga and believes that the link between our bodies and our minds should not be ignored when it comes to exercising.
"One of the most important things I teach particularly through yoga is that understanding of your body and especially the difference between tightness, tension and resistance," Chris explains.
"Resistance is in your mind, so when you actually learn to let go it is a wonderful help to the body. It is vitally important to figure out whether it is an authentic tightness you are feeling or it is a resistance coming from your head and very often this can be subconscious."
Chris Feld will be taking part in Wellfest, a new Irish festival for all things health, fitness and nutrition on Saturday September 19. For more information see: wellfest.ie or check out: chrisfeld.com
Always Schedule Your Workout
Never leave your training session to chance. Schedule your workout with the same discipline that you do work. Pre-plan, pencil it down and keep it to yourself
Chris's diet tip
If you're a pasta addict like me, but are looking to slim down, use the spiraliser to make pasta out of courgettes in under a minute
What Chris ate  today
Meal 1: Half of an entire watermelon
Meal 2: Green Juice (100 grams baby spinach, 2 courgettes, 1 whole cucumber, 3 stems of broccoli, 4 celery stalks, 2 apples, wheatgrass, fresh ginger, spirulina and flax seeds)
Meal 3: Big Salad (6 tomatoes, 2 cucumber, 2 bell pepper, 1 avocado, 2 courgettes, 2 heads of green salad, 2 cups of chickpeas, fresh lemon juice, ginger and pepper) + a big bowl of fresh strawberries with 3 peaches.
"I'm a Vegan. I eat mostly raw during the summer and about 50-60pc raw during the winter period," Chris says. "I cycle my diet and meal frequency so this sample does not reflect my overall diet and eating pattern as a whole. As you can see getting protein is not problem on a plant food-based diet. This gives me a total of 1.6 grams of protein per kilo-weight. There will never be a one-size-fits-all diet plan. I personally thrive on this diet, someone else might not. Diets need to always be tailored specifically to your what works with your body and your needs."