Take you Vinyasa to the next level!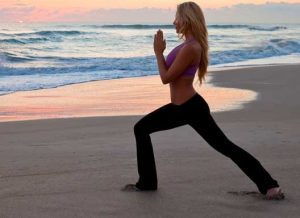 My Vinyasa style combines a series of flowing postures with rhythmic breathing for an intense body-mind workout with each movement accompanied by one breath. But it's not all about vigorous flows. We often return to steady stillness enjoying specific power building poses for a slightly longer time and the incorporation of Yin Yoga in between flows ensures a dramatic evolution in your flexibility and joint mobility.
If you are one of those who have tried yoga and think that it's too slow or boring, Vinyasa Flow is the class for you.
In Vinyasa yoga, we flow between poses synchronizing movement with breath. When you inhale into one pose and exhale into the next one, your mind simply is unable to wander around and your practice thus becomes a "moving meditation". This is why a Vinyasa class leaves you feeling so calm but yet with an extra little spring in your step.
With over 15 years of trainer experience and as a functional training specialist, I teach a dynamic well aligned, safe and articulated Vinyasa "power" flow class with a strong emphasis on breath helping you build a strong, flexible body through intelligent sequencing and mindful movement.
This improver's class suits all levels, but suits best people with an already active lifestyle as some basic fitness is required. If this isn't the case I recommend my Beginners to Vinyasa Flow Yoga class.
To Book: